Learn How To Build A Moonshine Still
November 18 @ 8:30 am

-

November 19 @ 6:00 pm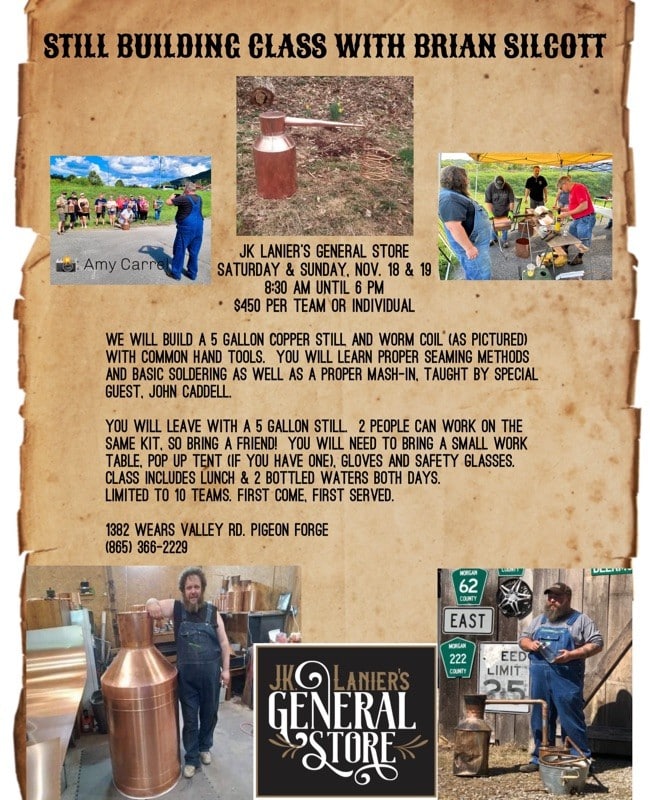 The Art of Making Moonshine takes some skill, and that's why they have the pro, Brian Silcott, ready to teach you how to build your own Still. Brian has been making Stills for years and he's loved by many moonshiners around the USA, so come join us for the day and get started on your Moonshine journey!
From JK Lanier's Event Page: 
We are proud to announce we are hosting a SECOND STILL BUILDING CLASS with Brian Silcott.
WHERE: JK Lanier's General Store
WHEN: Saturday & Sunday, November 18 & 19 (2 day class)
TIME: 8:30am until 6pm, daily
COST: $450 per team or individual
This class will be held outside.
*Class limited to 10 spots (includes 1 guest, if you work as a team)
We will build a 5 gallon copper still and worm coil (as pictured) with common hand tools. You will learn proper seaming methods and basic soldering as well as a proper mash-in, taught by Special Guest, John Caddell.
You will leave with a 5 gallon still. 2 people can work on the same kit, so bring a friend! You will need to bring a small work table, pop up tent (if you have one), gloves and safety glasses. Class includes lunch & 2 bottled waters both days.
Want to learn without all the cost?
SPECTATOR FEE: $30 (includes lunch & 2 bottled waters both days). Bring a chair. Limited to 15 spectators.
WE ARE NOT responsible for accidents. You MUST complete a waiver before being admitted to the class. No waiver, No class.
NO REFUNDS unless we cancel the class. We will reschedule if there is significant, inclement weather. Light rain will not be an issue
DEADLINE for sign up is October 31st & is FIRST COME FIRST SERVED, so it's recommended you pay immediately or your spot will not be guaranteed.
Payment can be made in person in store with CASH, Money Order or Certified Bank Check, made payable to Brian Silcott. You may also pay by Money Order or Certified Check via mail in to 1382 Wears Valley Rd. Mail in payments MUST BE RECEIVED no later than October 31st
Contact me direct at 865-366-2229 during business hours to start the sign up process. You can also private message me with your contact info